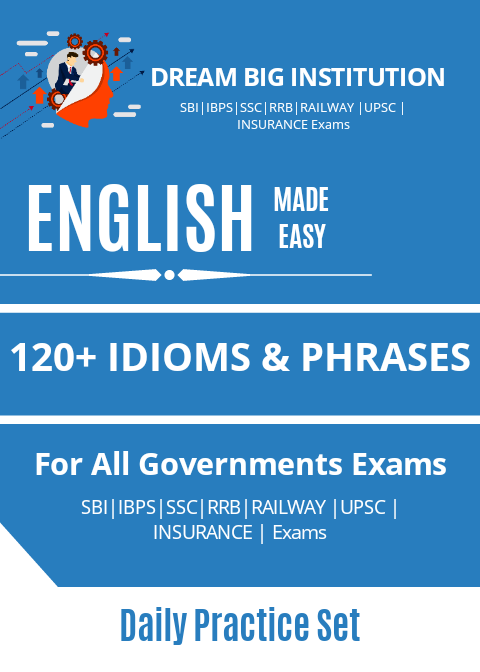 English Made Easy 120+ Idioms & Phrase For All Government Exams
English in most exams, including the IBPS PO, IBPS Clerk, IBPS RRB. SSC-CGL is divided into 4 broad groups.
These different groups test different skills in the English Language. They also include different questions that are used to test those skills. These groups are:
Reading Comprehension: Passages focused on topics like Banking & Economy, Business, Social Issues etc. Fact. Inference and Theme based questions.
Grammar: Error Spotting, Phrase Replacement/ Sentence Correction, Fill in the Blanks.
Vocabulary: Error Spotting, Phrase Replacement, Cloze Test (single passage with 5-10 questions), Fill in the Blanks (Double Blanks).
Verbal Ability: Para Jumbles.
This book covers the most fascinating aspects of English Language – the Idioms & Phrases, which are used in all forms of language be it informal and formal, spoken and written. Understanding and appropriate use of idioms and phrases greatly enhance the learner's language skills.
The present book ' 100 Useful Idioms for All Competitive Examinations' is a collection of more than 100 idiomatic phrases that occur frequently in English. The book explains the meaning and use of these expressions in a clear and precise way. Every idiom given in this book is explained with an example based on a meaningful sentence
120+ Idioms & Phrase For All Government Exams PDF Download Now
The book contains traditional idioms and phrases, idiomatic compounds, similes and comparisons, and some selected sayings and clichés. The book has been divided into a number of chapters as per the alphabets of English with words supplemented by a number of skill-building exercises along with keys at the end of the book. This book aims to help the aspirants not only as a comprehensive reference book but also as a valuable learning tool.
Download 120+ Idioms Phrases PDF
India's Most Affordable Premium Practice Set