Hello Dear Aspirants,
75th Independence Day: Azadi ka Amrit Mahotsav
"It is our duty to pay for our liberty with our own blood." …Subhash Chandra Bose
India is celebrating its remarkable 75th Independence day with a great ongoing initiative named Azadi ka Amrit Mahotsav to celebrate this iconic event. This year on August 15th,2022 India has completed its 75 years as an independent India and this is our 75th anniversary of independence. 
The Indian government has decided to celebrate this year's Independence Day as a festival of independence by a great programme in which every citizen of India can take apart and give his contribution towards this festival of independence. It is a 75 weeks programme and currently is celebrated across the country as well as abroad with great enthusiasm and determination.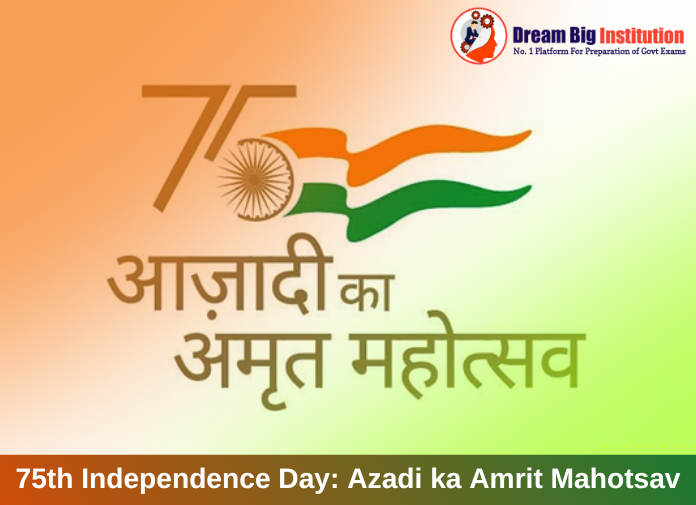 Significance:
In this initiative, there are various programmes and completions such as logo design completion, writing competition, tagline suggestions and many more prosperous programmes for the students of India and for every citizen by the government of India to make every citizen a part of our independence celebration. 
This programme is designed to celebrate and give tribute to our freedom fighters who were mainly responsible to make India an independent country. In this programme, the flag hoisting by the Prime Minister of India, Shri Narendra Modi, at the red fort in New Delhi and flag marching are also included. The Prime Minister of India will also give a speech to elaborate on the country's achievements.
Other aspects:
Azadi ka Amrit Mahotsav began on 12th March 2021 and was planned to continue up to 15th August 2023. It is an annual programme to celebrate India's independence from British rule. The Ministry which is core responsible for the implementation of this programme is the Ministry of Defence and Culture.
There are also various campaigns, rallies, programmes and various initiatives under Azadi ka Amrit Mahotsav. From the Mann ki Baat radio program, the Prime Minister, Narendra Modi, has also urged the citizens of India to change their social media picture from every platform with the national flag of India and also initiated the Har Ghar Tiranga campaign. 
This 75- week's programme is celebrated in virtual and physical mode and it has received very heartwarming responses from every corner of the country people are very enthusiastic about the participation of Azadi ka Amrit Mahotsav. 
Various Themes Of Azadi ka Amrit Mahotsav:
This programme includes various themes which increase its popularity and importance among citizens. These themes are given below:
Celebrating unsung heroes
Atma Nirbhar Bharat
Azadi ka digital mahotsav
Independence 2.0
India's rich cultural heritage
Ideas , achievement and resolve 
Vishwa guru Bharat 
Various Events:
There are various programmes and events which are the parts of this programme to celebrate our independence and make it memorable. In this article we are providing details of a few ongoing activities and competitions under the Azadi ka Amrit Mahotsav:
Har Ghar Tiranga:
This is a great initiative to give a chance to Indian citizens to show their patriotism towards India and its National flag. The Department of Legal Affairs, Ministry of Law and Justice, Government Of India has come up with this initiative called Har Ghar Tiranga. In this programme PM Narendra Modi calls citizens to promote awareness about the National Flag and hoisting of flag in this independence celebration.
Under this programme various competitions are taking place. The list of these completions are given below:
Essay competition: Envisioning India @2047
Debate on constitutional issues: Topic may be chosen by the students
Posts on social media: Landmark judgements in India
Design a logo For NUDM:
In this initiative citizens are called to participate in a logo competition and design a logo for National Urban Digital Mission. The starting date of accepting submissions is 2nd August 2022 and closing date of submissions is 24th August 2022. The one who wins this completion will get a cash prize of 25,000 rs.
Onion Grand Challenge:
The Department of Consumer Affairs, Ministry of Consumer Affairs, Food and Public Distribution has started this competition to invite proposals and ideas for the development of new technologies for primary processing, storage and valorization of onions. Students from colleges and entrepreneurs are invited to give proposals. The last date of submissions is 15th October 2022.
Citizen Perception Survey:
In the era of digital services, India has also contributed in this field. Now municipal services are also provided online digital services to the citizens. In this initiative citizens are welcomed to participate in this survey and get prizes. The last date of submissions is 25th August 2022.
Conclusion:
Anyone can find details of the ongoing and upcoming events and completions under the Azadi ka Amrit Mahotsav on the official website of MYGOV and take part in this memorable programme to celebrate India's 75th year of independence.
FAQ On the 75th Independence Day Azadi ka Amrit Mahotsav
Q1. India has completed how many years of independence?
Q2. When the Azadi ka Amrit Mahotsav programme began?
Q3. How can one participate in the various competitions under this programme?
Ans. By visiting mygov.com