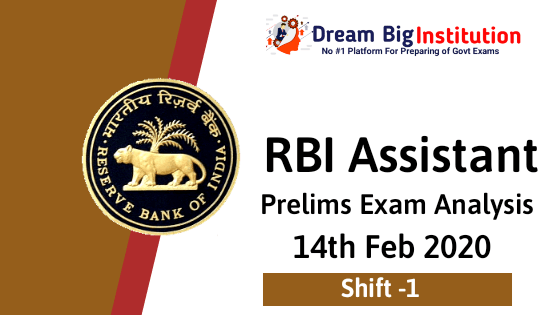 RBI Assistant Prelims Exam Analysis 2020 
 RBI Assistant 2020 prelims exam is scheduled to be conducted on February 14 and 15. After completion of the test, candidates will search for RBI Assistant exam analysis. Candidates looking for the analysis to know the difficulty level of each section, overall difficulty level, good attempts, expected cut off, topics from where questions were asked in the exam. Last year, the overall difficulty level of the prelims exam was easy. This year too, it can be expected that the paper might be easy in terms of difficulty level. RBI Assistant exam analysis 2020 will be updated as soon as the exam gets over. Until then, candidates can check below the previous years' RBI Assistant exam analysis.
RBI Assistant Prelims Analysis 2020: Overall
The preliminary exam for RBI Assistant was conducted online and had 100 questions for 60 minutes. Candidates have to manage those 60 minutes themselves while dealing with three sections- Reasoning Ability (35 Ques), Numerical Ability (35 Ques), and English Language (30 Ques). 
RBI Assistant Prelims 2020: Overall Good Attempts
The overall good attempts, as well as section-wise good attempts, is given below.
| | | |
| --- | --- | --- |
| Subject | Good Attempt | Time (in min.) |
| English Language | 23-25 | 20 minutes |
| Reasoning Ability | 29 – 32 | 20 minutes |
| Numerical Ability | 24 – 27 | 20 minutes |
| Total | 83 – 91 | 60 minutes |
English Language: Easy Level (Good Attempts- 23 to 25)
| | |
| --- | --- |
| Topic | No. of Questions |
| Reading Comprehension (Children's Behaviour) | 5 |
| Error Spotting | 5 |
| Fill Ups | 5 |
| Word Usage | 5 |
| Cloze Test | 5 |
| Misc | 5 |
| Total | 30 |
Quantitative Aptitude (Easy-Moderate)
 The level of quantitative aptitude was Easy to Moderate. A majority of the questions asked in this section were of Simplification and there was only one set of Data Interpretation- Line Graph
| | | |
| --- | --- | --- |
| Topic | No. Of questions | Level |
| DI | 5 | Easy-Moderate |
| Simplification | 15 | Easy |
| Wrong Number Series | 05 | Easy-Moderate |
| Miscellaneous | 10 | Moderate |
| Total | 35 | Easy-Moderate |



Reasoning Ability (Easy)
 There were a total of 3 sets of Puzzles and Seating Arrangement in this shift which is given below:-
Circular Seating Arrangement (8 people, all facing the Centre)
Month Based Puzzle
Linear Seating Arrangement Parallel Rows- 5 people on each side
| | | |
| --- | --- | --- |
| Topics | No. of Questions | Level |
| Syllogism | 03 | Easy- Moderate |
| Puzzles and Seating Arrangement | 15 | Easy-Moderate |
| Inequality | 03 | Easy |
| Direction and Distance | 03 | Easy |
| Alphabetical Series (3 letters based) | 05 | Easy- Moderate |
| Number Based | 02 | Easy |
| Alphabet based | 01 | Easy |
| Miscellaneous | 03 | Easy |
| Total | 35 | Easy |
---

 You May Also Check:
You May Also Like Some of Our Best E-Books & Practice Sets
Join Our Social Media
To Join us Instagram

Account

Click Here
To Join us Facebook Page
Click Here
To Join us Telegram Channel
Click Here
India's Most Affordable Premium Practice Set