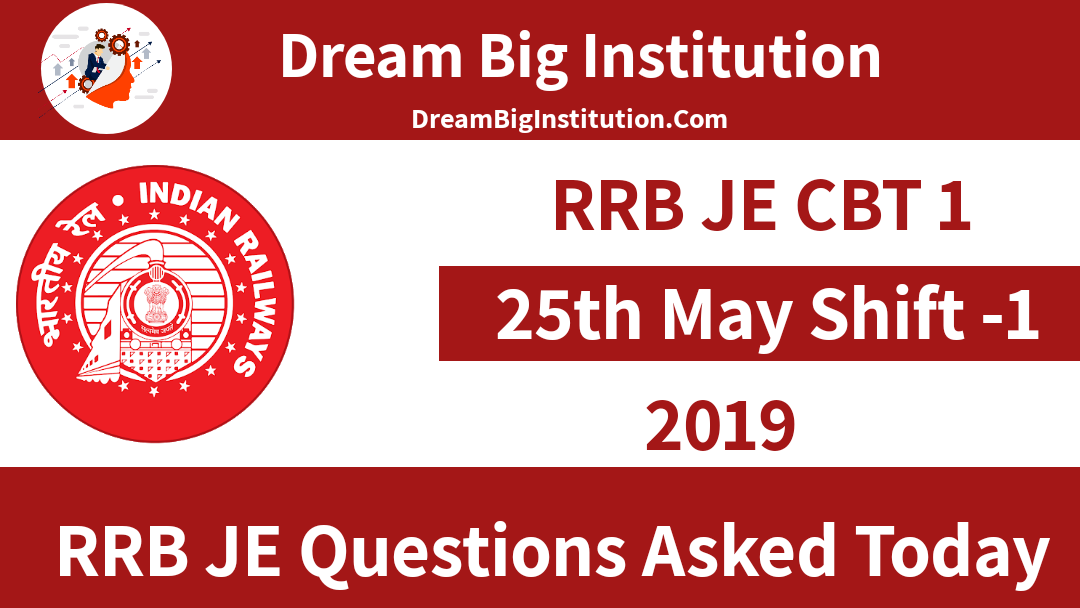 Questions asked in RRB JE Exam: 25th May
RRB JE 2019 Exam dated 22 May to 2 June 2019 has commenced from today As per the exam process, various shifts are allocated for the conduct of the exam. To meet the requirements of the candidates who have to appear for RRB JE 2019 Exam on dates other than today, Dream Big Institution is providing questions asked in today's exam in the allotted shifts.
With efforts made by Dream Big Institution & team, the maximum number of questions from all the sections of RRB JE 2019 Exam is being provided to you to make headway in your practice for the exam. Questions shared on this post are solely based on the genuine candidates' real exam experience. Questions' authenticity is doubt free. Go through them and be prepared for your RRB JE 2019 Exam in advance.
GA (General Awareness) Questions asked in RRB JE 2019: 25th May
President Ramnath Kovind has been honored with which award by Croatia?

Taj Mahal lies on the bank of which river?

Who has been conferred with Padamvibhusan Award 2019?

Which of the following emperors was called 'Alamgir'?

Capital of States Punjab and Haryana?

Who is the Chief Minister of Goa?

Which among the following is the Capital of Nepal?

Novak Djokovic belongs to which Country?

First Indian to go to Space?

What is the tenure of a State Governor?

Which of the following is the first satellite sent to Space?

Full Form of SONAR?
What has been described in Article 336?
General Science Questions asked in RRB JE 2019: 25th May
The shape of Bacillus Bacteria?
BaCl2 + NaOH is an example of Combustion, Oxidation or Combination Reaction?
Vitamin C is found in which of the following?
What is the Ph value of Blood?
Question related to Mirror Formula
Question on Simple attraction force.
Maths Questions asked in RRB JE: 25th May
cot A= 4/9. Find CosA -Sin A/CosA + SinA
if 2 goods are at bought at Re.1 and sold at Re.1. Find Loss percent.
2 Questions from SI and CI.
1 Question from Boat ad Stream.
Reasoning Questions asked in RRB JE: 25th May
2 Questions from Circular Table Seating Arrangement (Hard level)
Question on Counting number of Triangles.
One Puzzle.
Count no. of the rectangle in the figure.