Dear Aspirants,
List of Governor of India: States and Union Territories is one of the most common topics for the General Awareness section for various Government exams conducted in the country. There are a total of 28 states and 8 Union Territories in India and each state has a Governor who is the chief executive head of that particular state and acts as a Central Government representative. The table given below gives the state-wise list of Governor of India and a PDF of Governor of India.
Related Links: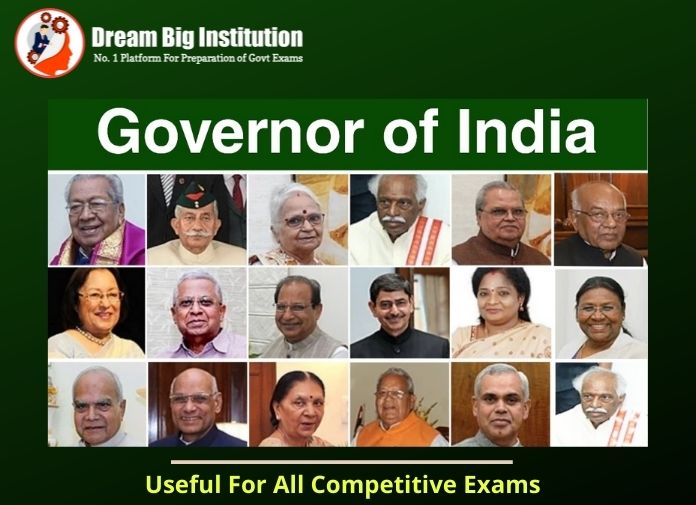 List of Governor of India – Statewise (List of Current Indian Governors)
The table given below gives the state-wise list of Governor of India along with the dates on which they took over the position. Also, the names of the first state Governor of Independent India have been mentioned in the list below:
Governor of India
| | | |
| --- | --- | --- |
| State | Current Governor | First State Governor of Independent India |
| Andhra Pradesh | Shri Biswa Bhusan Harichandan | Chandulal Madhavlal Trivedi |
| Arunachal Pradesh | Brigadier B.D Mishra (retd) | Bhishma Narain Singh |
| Assam | Prof. Jagdish Mukhi | Sir Muhammad Saleh Akbar Hydari |
| Bihar | Shri Phagu Chauhan | Jairamdas Daulatram |
| Chhattisgarh | Sushri Anusuiya Uikey | D.N. Sahay |
| Goa | PS Sreedharan Pillai | Major General K.P. Candeth |
| Gujarat | Acharaya Devvrat | Mehdi Nawaz Jung |
| Haryana | Bandaru Dattatreya | Shri Dharma Vira |
| Himachal Pradesh | Rajendra Vishwanath Arlekar | S. Chakravarti |
| Jharkhand | Ramesh Bais | Prabhat Kumar |
| Karnataka | Thawar Chand Gehlot | Jayachamarajendra Wadiyar |
| Kerala | Shri Arif Mohammed Khan | Burgula Ramakrishna Rao |
| Madhya Pradesh | Mangubhai Chaganbhai Patel | Dr. Pattahbhi Sitaramayya |
| Maharashtra | Shri Bhagat Singh Koshyari | Raja Sir Maharaj Singh |
| Manipur | Shri La. Ganesan | B. K. Nehru |
| Meghalaya | Satya Pal Malik | Braj Kumar Nehru |
| Mizoram | Dr. Kambhampati Haribabu | S.P. Mukherjee |
| Nagaland | Jagdish Mukhi | Vishnu Sahay |
| Odisha | Prof. Ganeshi Lal Mathur | Dr. Kailash Nath Katju |
| Punjab | Shri Banwarilal Purohit | Chandulal Madhavlal Trivedi |
| Rajasthan | Kalraj Mishra | Raj Pramukh Sawai Sh. Mansingh |
| Sikkim | Shri Ganga Prasad | B.B. Lal |
| Tamil Nadu | R.N. Ravi | Maharaja Shri Sir Krishna Kumarsingji Bhavsingji |
| Telangana | Dr. Tamilisai Soundararajan | E.S.L. Narasimhan |
| Tripura | Satyadev Narayan Arya | B.K. Nehru |
| Uttar Pradesh | Smt. Anandiben Patel | Sarojini Naidu |
| Uttarakhand | Gurmit Singh | Surjit Singh Barnala |
| West Bengal | Dr CV Ananda Bose | Chakravarthi Rajagopalachari |
List of Lieutenant Governors And Administrators for Union Territories
The post of Lieutenant Governor in a Union Territory is the same as that of a Governor in any State. The Lieutenant Governor is appointed by the President of India for a tenure of five years.
There are a total of 8 Union Territories in India and given below is the list of Lieutenant Governors and Administrators for these Union Territories along with the dates they took over the post:
| | | |
| --- | --- | --- |
| Union Territory | Governor | Capital |
| Andaman & Nicobar | Shri. Devendra Kumar Joshi (Lieutenant Governor) | Port Blair |
| Chandigarh | Banwarilal Purohit | Chandigarh |
| Dadra and Nagar Haveli and Daman and Diu | Shri Praful Patel (Administrator) | Daman |
| Delhi | Vinai Kumar Saxena | New Delhi |
| Jammu and Kashmir | Shri Manoj Sinha (Lieutenant Governor) | Srinagar |
| Lakshadweep | Shri Praful Patel (Administrator) | Kavaratti |
| Puducherry | Dr. Tamilisai Soundararajan | Puducherry |
| Ladakh | Shri Radha Krishna Mathur (Lieutenant Governor) | Leh |
List of Governors-General of Bengal
| | | |
| --- | --- | --- |
| Year | Governor-General of Bengal | Major Reforms & Events |
| 1772-1785 | Warren Hastings | First Governor-General of Bengal End to the dual system of administration Regulating Act of 1773Supreme Court at CalcuttaAsiatic Society of BengalFirst Anglo-Maratha War and Treaty of SalbaiFirst English translation of Bhagavad GitaPitt's India Act-1784 |
| 1786-1793 | Lord Cornwallis | Establishment of Appellate courts and lower grade courts Establishment of Sanskrit college third Anglo-Mysore War and Treaty of SeringapatamIntroduction of Permanent Settlement and civil services |
| 1793-1798 | Sir John Shore | Charter act of 1793 Policy of Non-interventionBattle of Kharda |
| 1798-1805 | Lord Wellesley | Introduction of Subsidiary Alliance System Fourth Anglo- Mysore war and the Treaty of BasseinSecond Anglo – Maratha war establishment of Madras presidencyEstablishing Fort William College at Calcutta |
| 1805-1807 | Sir George Barlow | The Acting Governor-General of India until the arrival of Lord Minto, Diminished the area of British territory because of his passion for economy and retrenchment, The Mutiny of Vellore took place in 1806 |
| 1807-1813 | Lord Minto I | Concluded the treaty of Amritsar with Maharaja Ranjit Singh in 1809, Introduced the Charter Act of 1813 |
| 1813-1823 | Lord Hastings | The policy of Non-intervention came to an end third Anglo-Maratha war abolition of PeshwashipEstablishment of the Ryotwari System in Madras (By Thomas Munroe) and BombayMahalwari system in north-western Provinces and Bombay |
| 1823-1828 | Lord Amherst | The annexation of Assam led to the first Burmese war of 1824, The mutiny of Barrackpore in 1824 |
List of Governor of India – States & Union Territories Governors
The Button given below gives the state-wise list of Governor of India PDF. Check here a detailed list of Governor of India PDF, and download PDF
Governor of India – Role, And Responsibilities
Governor is the constitutional head of each state. Every action taken in a state is done in the name of the Governor by the executive power (Chief Minister) of that State.
Being the nominal head of the State, various responsibilities rest with the Governor and the Lieutenant Governor/Administrator. Given below are these responsibilities in brief:
Legislative, Judicial, Executive, and Financial powers are laid down for the Governor of a State
They have the right to address, summon, differ and dissolve the State Legislatures
In case of unforeseen circumstances, the Governor reserves the right to make advances from the State Contingency Fund
The Chief Justice of a State High Court is elected with the consent of the State Governor
If no political party wins the Lok Sabha election, Governor holds the right to elect the Chief Minister for their states
In case of constitutional emergency, the President's rule in a state is acted upon by the Governor
He can disqualify any member from elections with the consent of the Election Commission
State Legislators need to lay the state budget keeping the Governor's opinion in consideration
Governor/Lieutenant Governor/Administrator – Key Points
There are certain points that need to be known with respect to the state Governor, Lieutenant Governor or Administrator in India:
They are appointed for a tenure of 5 years
As per the Governor's Act of 1982, the monthly salary of a Governor is Rs. 1,10,000/-
The eligibility to become a Governor includes being a citizen of India, age above 35 years, must not hold any office of profit and he/she must not be a member of any state of union territory legislature
The same Governor can be appointed for more than one state
The Governor resides in the Raj Bhavan of the state during his/her tenure and is entitled to a fixed pension
Sarojini Naidu was the first woman to become an Indian state Governor
These are the few pointers that are important with respect to the General Awareness section of the various Government exams.
Facts About Governor of India
Given below are fact related to the Governors of India. Candidates must read them as questions based on these can be asked in the competitive exams.
Every information related to Governor is mentioned in Article 153 to Article 162 of the Indian Constitution
Information regarding the eligibility criteria of Governor is mentioned in Articles 157 and 158 of the Indian Constitution
It was The Governors Committee (1971) that laid the responsibility of administering a state in case of political instability
The Governors under the Government of India Act 1935 were "by the Raj, of the Raj and for the Raj".
Sample Questions for Governor of India
Given below are a few sample questions related to the list of Governors in India which may help aspirants analyse the type of questions that may be asked from this topic in the upcoming government exams.
Q 1. Who was the first woman Governor of an Indian state?
Q 2. Who appoints the Governor of a State?
Q 3. Which of the following is not a responsibility of the state Governor? (Here candidates will have to choose the answer from the given options)
Q 4. What is the minimum age for a person to be eligible to become the Governor of a state?
Q 5. Who took over the post of Governor in Uttar Pradesh after Shri Ram Naik? (This may be asked with respect to any other state/UT)
Q 6. Who was the first Lieutenant Governor of Ladakh?
Q 7. Which article of the Indian Constitution provides for a Governor?
Q 8. Who has the authority to remove or replace the Governor of a State?
The questions mentioned above are just for the candidate's reference. Candidates can refer to these questions and prepare themselves for the recent Government exams
FAQ on Governor of India
Q. Who was Bengal's first Governor-General?
Ans: Warren Hastings was the first Governor-General of Bengal, serving from 1772 to 1785.
Q. Who was the last governor-general in India?
Ans: The answer is Chakravarti Rajagopalachari. After independence, Chakravarti Rajagopalachari (1878-1972) became the only Indian and last governor-general of India. Rajagopalachari was appointed Governor-General of India's Interim Government in June 1948 and served until January 1950
Q. Who was the first governor of India?
Ans: 1. Robert Clive was the first Governor-General of Bengal. 2. William Bentinck was the first Governor-General of India.
Here we are Providing a List of Governor of India | List of Current Indian Governors, we hope it is helpful for All Competitive exams
---