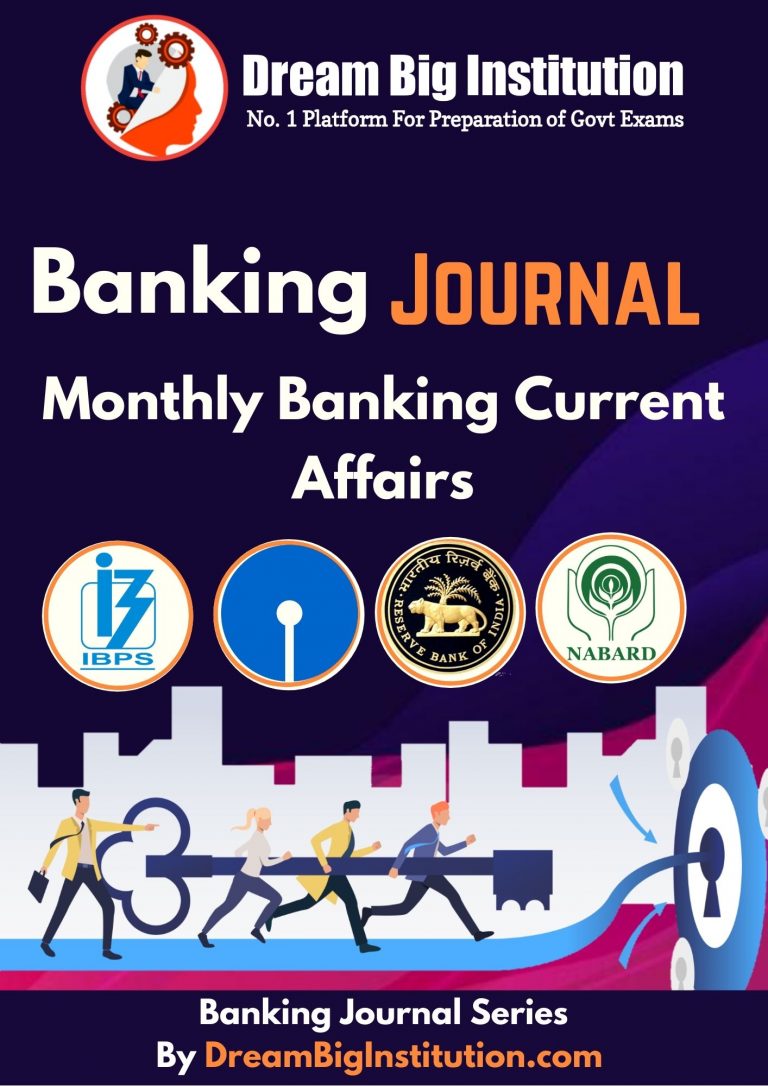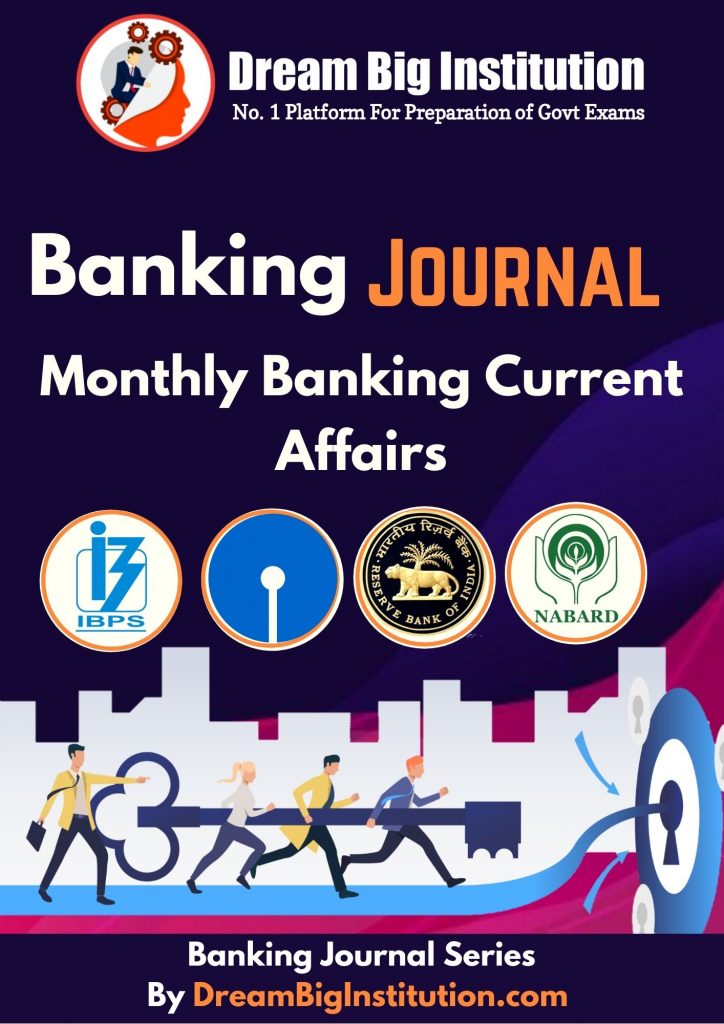 Banking Current Affairs PDF Introduction:
Banking Current Affairs PDF 2022 Play a Vital Role in Banking Exam Like SBI PO, Clerk, IBPS PO, Clerk, RRB PO, Clerk, NABARD Etc.
Candidates Who are Preparing for Bank Exam Must Prepare Banking Current Affairs. In Bank Exam Under Current Affairs Sections Banking Current Affairs Has Small but Important Role. Banking Awareness and Banking Current Affairs-related questions are also asked in Bank Exam Interview.
Banking Current Affairs PDF : Overview
| Description | Details |
| --- | --- |
| Article Name | Best Banking Current Affairs PDF |
| Category | Current Affairs |
| Covers | Last 6 Months Banking Current Affairs 2022 PDF |
| Total One liner | 500+ |
| Months Covered | January to April 2022 |
| Useful For | SBI PO, Clerk, IBPS PO ,Clerk, RRB PO, Clerk, NABARD Etc |
| Language | English |
| Format | PDF |
| Quality | Best |
| Compiled By | https://www.DreamBigInstitution |
Important of Banking Current Affairs PDF (Journal Series)
Every Year Millions of Candidates Prepare for Bank Exam But Only a Few of Them Get Selected. Current Affairs Section Play A Very Important Role in Bank Mains Exams. To Prepare Current Affairs for Free, You Can Use Our Best Last 6 Month Current Affairs PDF Notes.
Banking Current Affairs PDF (Journal Series) is A New Initiative By – Dream Big Institution for Our Fellow Candidates. In This Series, We Are Providing You Month –Wise All Important Banking Current Affairs Notes.
There is some steps to help you in preparing for Banking CA :
Read newspaper daily basis (Business/ Economy/ Financially news)
Go thoroughly with the monthly Banking, Economic and Financial Awareness pdf provided here- (Banking Current Affairs PDF)
Make notes of important Banking, Economical, and Financial pointwise Notes
Revise it on a regular basis.
Topics Covered in Our Banking Current Affairs PDF
Latest technologies used in banking (Internet, Mobile & SMS banking)
Names of banks chairman/MD, RBI governor & important financial organizations
Terms used in the banking field (like NEFT, RTGS, Repo rate, NPA, etc.,)
Money instruments (cheque, DD, ATM, debit, credit cards, etc) & how, when to use them.
Five-year plans, recent developments in the banking sector, mergers, Indian economy, policy decisions (newspapers & GK books will cover this)
Banking Current Affairs April 2022
Bank Of Baroda Launched A New Feature 'Bob World Gold' For Senior Citizens
Airtel Payments Bank Tie-Up With IndusInd Bank To Offer FD Facility
Suryoday Small Finance Bank Tie-Up With Kyndryl For Digital & IT Transformation
Dhanlaxmi Bank Signed MoU With CBDT, CBIC For Tax Collection
For Rs 184 Crore, HDFC Will Sell A 10% Interest In HDFC Capital To Abu Dhabi Investment Authority
Manappuram Finance Fined Rs 17.63 Lakh By The RBI For Failing To Comply With KYC Regulations
Reserve Bank Of India Capped Lending Limits Of NBFCs
SBI Raises USD 500 Million Via IFSC Gift City Branch
Nexo Launched World's 1st Crypto-Backed Payment Card "Nexo Card"
128th Foundation Day Of Punjab National Bank
Fino Payments Bank To Buy 12.19% Stake In Paysprint Pvt Ltd
Kotak Mahindra Bank Launches Digital Platform, FYN
ADB To Approve $2 Million Loan To Support Urban Development In Nagaland
Bank Of Maharashtra To Divest 4% Stake In ISARC
Vikas Siri Sampat-1111 Scheme Introduced By The KVGB
IndusInd Bank's 'Indus Merchant Solutions' App Won Digital CX Awards 2022
RBI Issues Guidelines For Setting Up Full Day Digital Banking Units
Axis Bank And IDBI Bank Have Each Been Fined Rs 93 Lakh By The RBI
PNB Implements Positive Pay System Compulsory For Cheque Payments Worth Rs 10 Lakh
Union Bank Launches Super-App UnionNXT And Digital Project SAMBHAV
The Merger Of HDFC Bank And HDFC Ltd Has Been Announced
SBI Tie-Up With BSF To Offer Curated Benefits Through CAPSP Scheme
HDFC Bank Adjudged As Best Performing Bank In SHG Linkage By DAY-NRLM
RBI Fixed WMA Limit For States/UTs At Rs 47,010 Crores
Axis Bank Takes Citibank's India Consumer Business In A Rs 12,325 Crores
Central Bank Of India Partnered With Kwik.ID To ​Digitize Customer Onboarding
RBI Extended The Deadline For Banks To Utilise Lockable Cassettes In ATMs By A Year
India To Give Additional $500 Million Fuel Aid To Sri Lanka
SEBI Reconstituted Its Advisory Committee For Leveraging Regulatory And Technology Solutions
World Bank Cuts Global Economy Growth Forecast To 3.2%
IMF Cuts India's GDP Growth Forecast For FY23 To 8.2%
WPI Based Inflation In March Rose To 14.55%
Three General Insurance Companies' Share Capital Increased By The Government
Union Government Crosses Its Asset Monetization Target For FY22
World Bank Slashes India's GDP Growth Forecast For FY22-23 To 8 Percent
India's Retail Inflation Rose To 6.95% In March
India's Gold Imports Increased By 33.34% To Rs 46.14 Billion In 2021-22
Two Separate Sebi Panels To Review Ownership Norms Of MFs, Trustees
India's Agriculture Exports Cross USD 50 Billion Mark For First Time
Gujarat Govt To Receive Rs 7,500 Cr Loan From World Bank, AIIB
RBI Monetary Policy 2022: Key Rates Unchanged
Govt Released Data: India's Trade Deficit Rises 88% In FY22
ADB Projects India's Economy To Grow By 7.5% In FY23
March 2022: GoI Had Collected An All-Time High Of Rs 1.42 Lakh Crores As GST
SEBI Has Announced An Ideathon Manthan To Foster Innovation In The Securities Business
FICCI Estimate India's GDP Growth Rate For FY23 At 7.4%
GoI Keeps Interest Rates On Small Savings Schemes Unchanged For Q1 (April-June 2022)
Banking Current Affairs March 2022
Government extends Emergency Credit Line Guarantee Scheme by one year until March 2023
India Ratings lowers India's FY23 GDP growth forecast to 7-7.2%
ICRA cuts India's GDP growth forecast in FY23 to 7.2%
RBI Governor dedicates Varnika Ink Manufacturing Unit of BRBNMPL to the Nation
Shaktikanta Das lays Foundation Stone of Learning and Development Centre (LDC) of BRBNMPL in Mysuru
UNCTAD projects India's GDP growth forecast in 2022 to 4.6%
Shaktikanta Das inaugurates Reserve Bank Innovation Hub in Bengaluru
First wildlife bond issued by World Bank to save Africa's black rhino- Worth- $150 million
Chile's Mario Marcel wins the Governor of the year award 2022
Pralay Mondal appointed as interim MD and CEO of CSB Bank
Govt sets Rs 1-trillion infrastructure lending target for DFI for 2022-23
Kotak, Axis Bank acquire 7.84% stake each in ONDC
OECD projects India's GDP for FY23 at 8.1% and for FY24 at 5.5%
Fitch Ratings lowers India's FY23 growth forecast to 8.5%
HDFC Bank to launch "SmartHub Vyapar programme" and "Autofirst" application for small business loans
SBI to set up Innovation, Incubation and Acceleration Centre in Hyderabad, Telangana
Govt increases timeline for startups for converting debt investment into equity to 10 years
RBI Innovation Hub partners with IIT Madras to boost fintech startups
NPCI launches "UPI Lite – On-Device wallet" functionality for UPI user
RBI issues Regulatory Framework for Microfinance Loans
Moody's lowers India's GDP forecast for CY22 to 9.1% amid Russia-Ukraine conflict
EPFO lowers interest rate on PF deposits to 8.1 pc for 2021-22
Morgan Stanely projects India's GDP for FY23 at 7.9%
Debasish Panda appointed as Chairman of IRDAI
RBI directs Paytm Payments Bank Ltd to stop onboarding of new customers
NaBFID to be regulated as AIFI under RBI Act
Haryana CM Manohar Lal Khattar announces Haryana Matrushakti Udaymita Scheme to support women entrepreneurs
India and World Bank inks US$125 million loan to support access to Social Protection Services in West Bengal
Axis Bank launches 'HouseWorkIsWork' initiative to bring educated urban women to workforce
ToneTag launches VoiceSe UPI digital payments for feature phone users, in partnership with NSDL Payments Bank
Sebi raises UPI limit for investing in debt securities to Rs 5 lakh
HDFC Mutual Fund launches Missed Call Advisory Service #LaxmiForLaxmi for Women Investors
RBI launches UPI123pay for feature phones and DigiSaathi- a 24×7 Helpline for Digital Payments
RBI launches "BE(A)WARE" – A Booklet on Modus Operandi of Financial Frauds
Axis Bank and Airtel announces partnership to boost India's digital ecosystem
RBI to observe Digital Payments Awareness Week (DPAW) from March 7-11, 2022
SBI appoints ex-Ujjivan Small Finance Bank CEO Nitin Chugh as DMD
Axis Bank commits USD 150 million loan to healthcare sector via SAMRIDH facility
LIC Mutual Fund appoints TS Ramakrishnan as MD and CEO
Finance Minister launches e-Bill system to enable paperless submission and digital processing of bills
46th Civil Accounts Day celebrated on March 02, 2022
HDFC Bank finances Asia's largest waste to energy plant in Indore- Gobar-Dhan plant
Bank of Maharashtra has tied up with Mahagram to roll out the 'Bank Sakhi' project in Odisha
Banking Current Affairs February 2022
Union Bank launches 'Union MSMERuPay Credit Card'
Brickworks Ratings lowers India's GDP to 8.3% in FY22
RBI directs NBFCs to implement 'Core Financial Services Solution' by September 30, 2025
Rakesh Sharma re-appointed as MD & CEO of IDBI Bank for 3 years
Sanjeev Sanyal inducted as full-time member in Economic Advisory Council to PM
Moody's projects India's growth estimates to 9.5% in CY2022
India Ratings lowers FY22 GDP growth to 8.6 per cent from 9.2 percent
Chetan Ghate appointed as director of Institute of Economic Growth
Bank of Baroda signs MoU with Assam Rifles to provide Central Forces Salary Package
SEBI reconstitutes advisory committee on alternative investment policy; Chair-N R Narayana Murthy
Govt of India, Karnataka and Odisha signs loan agreement of $115 million with World Bank for implementation of REWARD Project
SBI, BoB, PNB, UBI, Canara Bank and BoM acquires stake in IDRCL
JPMorgan becomes the First Bank Into the Metaverse
Equitas Small Finance Bank raises Rs 550 crore from Central Bank of Singapore, Government of Singapore, others
IBA's 17th Annual Banking Technology Awards 2021 announced
Kotak Mahindra Bank ties up with Ezetap for integrated PoS solutions
India's GDP projected at 8.8% in FY22: SBI Ecowrap report
NPCI International partners with Gateway Payment Service and Manam Infotech to deploy UPI solution in Nepal
Edelweiss Asset Management launches mobile app eInvest for investors
The NITI Aayog Fintech month commenced on February 7, 2022; Theme- "OPEN"
Yes Bank launches 'Agri Infinity' programme to develop digital financial solutions for the food and agriculture ecosystem
SIDBI launches 'waste to wealth creation' programme in West Bengal
Paisabazaar.com launches 'Paisa on Demand' credit card in partnership with RBL bank
Sandeep Bakhshi named Business Standard Banker of the Year 2020-21
RBL Bank partners with Creditas Solutions for 'Neo Collections' platform.
Sebi reconstitutes its 8-member advisory committee on Investor Protection and Education Fund; Head-G Mahalingam
RBI reopens Voluntary Retention Route (VRR) with investment limit of ₹2,50,000 crore
RBI keeps Repo Rate unchanged at 4.0 per cent; GDP growth for 2022-23- 7.8 per cent.
RBI emerged as the second largest buyer of Gold among the world's Central Banks in 2021
SEBI directs AMCs to set up audit committee with minimum three directors
Razorpay buys majority stake in Malaysian startup "Curlec" at over $19 mn valuation
RBI to observe February 14-18, 2022 as Financial Literacy week 2022
Karnataka Bank wins digital transformation award, 'DX 2021 Awards' of CII
ADB committed record US$4.6-bn loans to India in 2021
IIT-Hyderabad launches AI-based platform for the disabled jobseekers- Swarajability
NSO releases First Revised Estimates: shows GDP contraction of 6.6 per cent during 2020-21
RBI cancels the licence of Independence Co-operative Bank Limited, Nashik, Maharashtra
Exim Bank extends USD 500 mn Line of Credit to Sri Lanka
CRISIL projects India's GDP growth for FY22 at 9.2% and for FY23 at 7.8%
Patanjali and PNB launches co-branded contactless credit cards in partnership with RuPay
Banking Current Affairs January 2022
RBI imposes restrictions on Lucknow-based Indian Mercantile Cooperative Bank Ltd with withdrawal cap of Rs 1 lakh for six months
SPMCIL sets up new bank note printing lines at Nashik and Dewas
Tata Group choose SBI, Bank of Baroda and HDFC Bank as preferred bankers for Air India
Govt extends scope of Advisory Board for Banking and Financial Frauds (ABBFF) to cover all fraud cases involving amount of Rs.3 Crore and above
TerraPay partners with NPCI International to boost cashless transactions for Indian customers
Govt notifies amalgamation of PMC Bank with Unity Small Finance Bank Ltd
IMF lowers India's FY22 growth forecast to 9% from 9.5%
City Union Bank launches CUB Easy Pay integrated Debit Card in a Fitness Watch
Rs 12 crore siphoned off by hackers from of Andhra Pradesh Mahesh Co-op Urban Bank
Paytm partners with Fullerton India to provide lending products
Centre appoints Vinodanand Jha as new Chairperson of PMLA Adjudicating Authority
World Bank approves USD 125 million loan to West Bengal to support poor and and vulnerable groups
NITI Aayog & RMI India releases report 'Banking on Electric Vehicles in India' for priority-sector recognition of Electric Vehicles
RBI approves appointment of Vinod Rai as independent Chairman of Unity Small Finance Bank
FDI flows to India falls by 26% in 2021: UNCTAD report
Ind-Ra Projects India's GDP Growth Rate at 7.6% in FY23
RBI announces Digital Payments Index for September 2021 at 304.06
IIMK LIVE and Indian Bank ink MoU to disburse loans upto Rs 50 Crore for Startups under 'IndSpring Board' Scheme
SEBI Launches Mobile App 'Saa₹thi' For Investor Education
JIO Becomes First telecom company To Roll Out UPI AUTOPAY
MobiKwik launches 'ClickPay' in collaboration with NBBL for faster bill payments
Yes Mutual Fund renamed as White Oak Capital Mutual Fund
Paytm Payments Bank emerges biggest UPI beneficiary bank while SBI biggest remitter in December 2021: NPCI Data
India's forex reserves declines by $878 mn to $632.7 bn: RBI data
HDFC Bank named Best Private Bank In India at the Global Private Banking Awards 2021
India grants support of $900 million to Sri Lanka to overcome forex crisis
UN projects India GDP at 6.5% in FY22 and 5.9% in FY23
RBI approves appointment of Ittira Davis as MD & CEO of Ujjivan SFB
UBS Projects India's GDP forecast at 9.1% in FY22 and 8.2% in FY23
World Bank projects India's GDP growth at 8.3% in FY22 & 8.7% in FY23
Deposits in Jan Dhan accounts cross Rs 1.5 lakh crore: Finance Ministry
Former RBI Governor Urjit Patel Appointed as Vice President of Beijing-based AIIB
India's Real GDP projected to grow at around 9.5% in FY22: SBI Ecowrap
Forex reserves decline by USD 1.466 bn to USD 633.614 bn: RBI data
MD & CEO of CSB Bank, C V R Rajendran announces early retirement on health grounds
NSO projects Indian economy to grow 9.2% in FY22
Ind-Ra lowers India's GDP growth forecast by 10 basis points to 9.3% in FY22
NPCI Bharat BillPay launches Unified Presentment Management System to simplify recurring bill payments
CryptoWire launches India's first cryptocurrencies index IC15
RBI Gives Scheduled Bank Status to Airtel Payments Bank
State Bank of India invests USD20 million in payment solutions provider Pine Labs
RBI Retains SBI, ICICI Bank, HDFC Bank as Domestic Systemically Important Banks (D-SIBs)
IndusInd Bank launches 'green fixed deposits' for retail and corporate customers
GST Collection in December 2021 stands at over Rs 1.29 crore: FinMin
Atul Kumar Goel takes charge as 'officer on special duty' in PNB
RBI releases framework for Facilitating Small Value Digital Payments in Offline Mode
SBI Card joins hand with Paytm for card tokenisation
Sale of 19th tranche of electoral bonds opens on January 01, 2022
SEBI reconstitutes advisory committee on market data; Head- S Sahoo
Government keeps interest rates on Small Savings Schemes unchanged for Quarter-4 of 2021-22
Rajeev Ahuja appointed as interim CEO of RBL Bank
Equitas Small Finance Bank Board approves re-appointment of Vasudevan PN as MD & CEO
ICRA Projects India's GDP at 9% in FY22 and FY23
SBI acquires 9.95% stake in India International Clearing Corporation (IICC)
Important Topics:
We understand your Concern and Difficulties Faced by the Aspirants during the Preparation So, We are Providing You Banking Current Affairs Syllabus.
New Banking Schemes: Every month Several Bank introduced different schemes for their customer's welfare, so in this topic, we will cover all the important and latest schemes launch by banks, this topic is also very important from the point of view of Bank Mains Examination.
App Launches By Bank: Now a day Internet Banking plan an important role among customers, bank launch Application for the benefit of the customers. In this Topic, you will get a List of Apps launched by Banks.
Updated Policy: From time to time Banks update their Policy, it is very important for the aspirants to aware of the latest updated Policy. In this topic, we are going to cover a list of updated policies By Bank. This Chapter is an important part of the banking current affairs Syllabus.
Agreement and Tie-ups: Bank make agreements and Tie-ups with other banks and companies to launch new products and share expenses, so in this topic, we will see a list of agreements and Tie-ups made by Banks.
Loans Approved: The main function of a bank is to provide loans to the customer, but some time banks also need to take a loan from financial institutes to run their day-to-day operation so in this topic you will get a list of loan approved by banks.
Partnerships/ Merger: Now a day several banks got merged in each other to form one new apex institution. Banks also do a partnership with other banks to run their operations. In this topic, you will get to know the list of mergers or Partnerships happens into the bank. This chapter is important for banking aspirants.  
Digital Banking: Digital Banking is a new form of Banking which replaced the traditional banking activities and program services that where historically were available to customers, when physically available to Bank Branch, in this Digital banking Chapters we will learn a list of Digital Banking products, Benefits of Digital banking the best e.g., of digital Banking is ATM.
New Campaign by Banks: Bank run campaign to promote Digital Banking like Punjab National Bank has launched a Campaign named "Digital APNAYEN" so in this chapter we will see a list of new Campaigns run by Bank.
Why are Current Affairs Important?
Current affairs play an important role in the day to day life. Now many competitive exams like Banking, Insurance contain questions related to the latest current affairs updates, even in the interview also they give a situation based going on the latest current affairs and take your Vision based on it. So Current Affairs Extremely important
The query on Static GK and Banking Awareness is related to the countries, events, or anything that has been in news for quite a while. Besides the GA Section, exceptional learning of current news also makes you deal with the PI (Personal Interview) even more capably so you don't give a mumble befuddle answer to the interviewee's fundamental requests. Here is a test on Current Affairs to allow you to review your Current Affairs Knowledge.
Banking Current Affairs PDF Notes 2020 was offered here to download in PDF. Current Affairs is important for each and every competitive Exam. Candidates who are getting ready for Upcoming Banking IBPS, SBI | LIC exams can use these materials. It is inconceivable to hope to examine Newspapers consistently and to collect each important news step by step. In any case, you can prepare by clear search Month-wise Banking Current Affairs PDF here.
Benefits of Banking Current Affairs PDF
Reading the Current Affairs will help in many ways and there are a lot of advantages as listed below
You can stay updated with all the latest News, Trends happening across the World.
Reading and solving these current affairs Questions regularly will let you get more marks in the examination.
Your General Knowledge Section and Static GK Section can be improved
With Dream Big Institution

Monthly Current Affairs PDF

Notes, you can be well prepared for the All Competitive exam.
The Banking Current Affairs PDF 2020 is available for all government exams as per its latest syllabus and Exam pattern.
The Current Affairs can be downloaded from the

DreamBigInstitut

i

on.com website for Free or Aspirants can easily download the Banking Current Affairs PDF in English.
How to Download Banking Current Affairs PDF?
To Download Banking Current Affairs PDF Kindly Click on The Link Given Provided Above. We Have Systematically Provided All the Previous Year Paper PDF So You Can Download Easily. Kindly Follow This Step
Step-1: Click on The Link Provided Above
Step-2: After Opening The PDF in Google Drive
Step-3: Click to Download Option
Step-4: Click a file to download. To download multiple files, press Command (Mac) or Ctrl (Windows) while clicking other files.
Right-click and click Download.
Banking Current Affairs: FAQs
Which is The Best Site to Prepare Banking Current Affairs?

Ans: DreamBigInstitution.com Is the Best Site to Prepare Banking Current Affairs

In Which Language Banking Current Affairs Journal Series Available?

Ans: Banking Current Affairs Journal Series is Available in English

Is Banking Current Affairs Journal Series Free or Paid?

Ans: Banking Current Affairs Journal Series is Absolutely Free of Cost for our Fellow Candidates

How many questions are asked in Banking Current Affairs section in Bank Examination?

Ans: You Can Expect 3-4 Questions From Banking Current Affairs Section in Bank Exam.
Conclusion: We have provided the Best Banking Current Affairs PDF with you. Now download these PDFs, Notes and start preparing for the all banking Examination. Stay Connected with www.dreambiginstitution.com for the latest exam updates and study materials| PDF | Notes.
Best of luck for your exam.
Thanks.
India's Most Affordable Premium Practice Set-Click Here