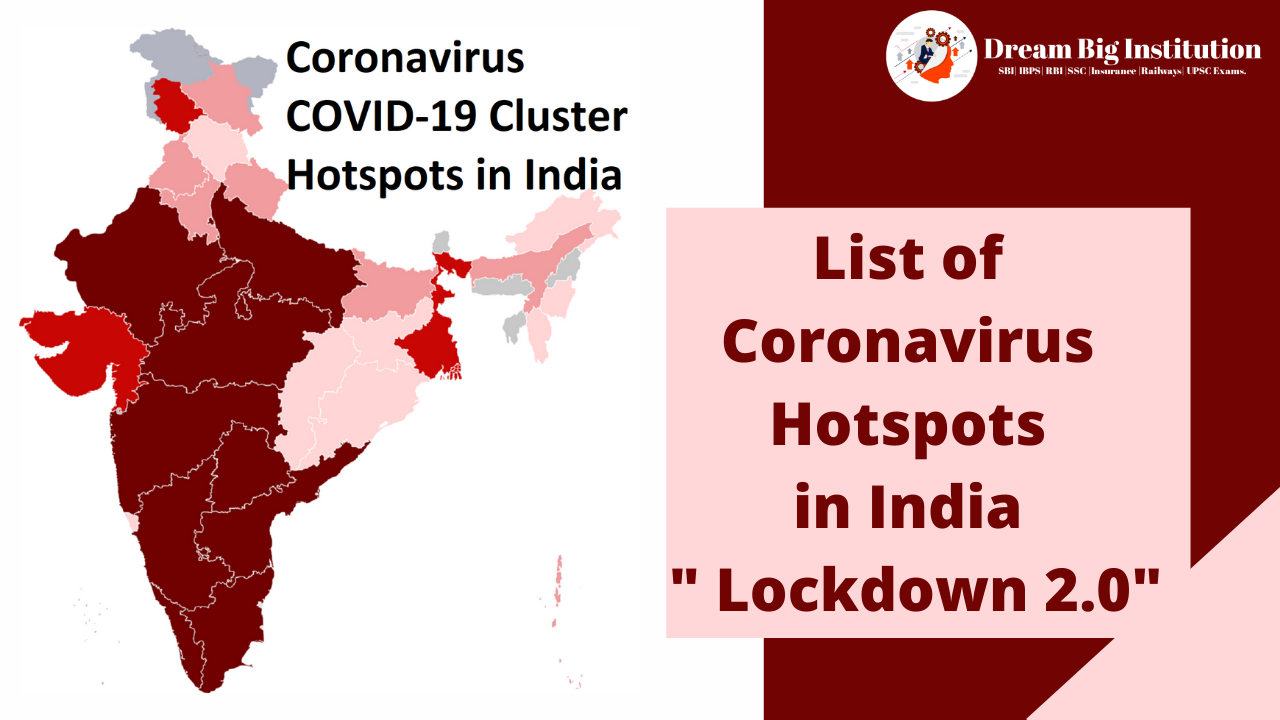 List of Coronavirus Hotspots in India " Lockdown 2.0: Prime Minister Narendra Modi announced lockdown 2.0 from April 14, the ministry of home affairs has issued a new guideline of what will be allowed and what won't in the second phase of the lockdown. Around 170 hotspots have been classified in the Red Zone (123 hotspot districts with large outbreaks and 47 hotspot districts with clusters), while 207 non-hotspot districts with clusters and non-infected districts have been classified as green Zone in 25 states and Union territories.
More than 12,000 cases of coronavirus have been reported in India till now and the cases have been increasing at a rapid speed. While the first 5,000 cases in India were reported after 70 days, the next 7,000 cases have come in just 8 days. To curb the spreading of coronavirus central govt. has asked the state govt. to categorize districts into red, orange and green zones depending on the number of coronavirus cases. In this exercise, the Aarogya Setu App would play a major role as it would help in categorizing area-specific COVID-19 cases.
What are Red, Orange and Green Zones
Red Zone for Covid 19: The areas with substantial numbers of positive coronavirus cases would come under the red zone and there will be complete restriction. Districts or cities that are contributing to more than 80% of the cases in the country or the state will be categorised under red zone. Places that show a high rate of infection with a doubling rate of lesser than 4 days will also be in this category.
Mumbai, South Delhi, Hyderabad, Jaipur, Kasaragod are the top five districts that come under red zone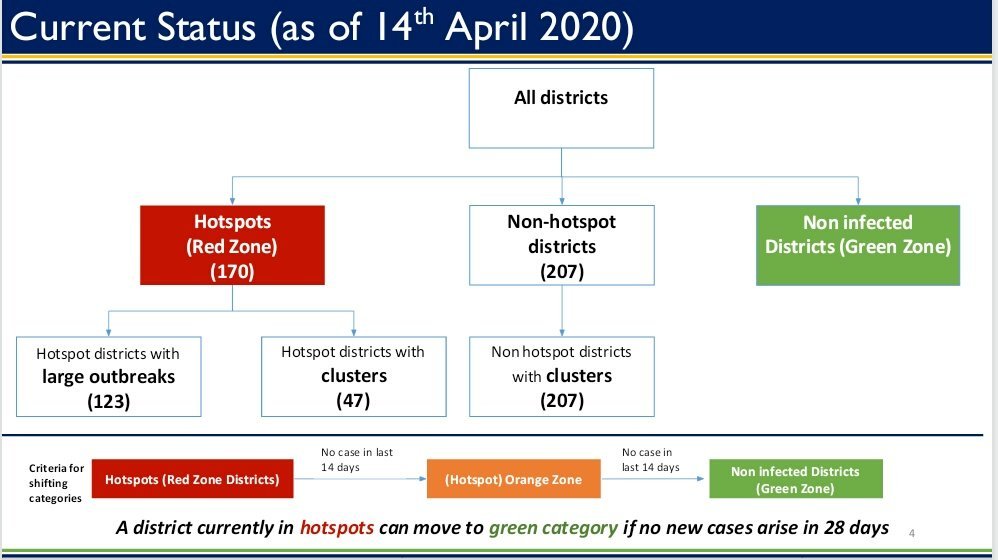 Orange Zone for Covid 19: Those areas that have limited number of cases in the past and with no surge in positive cases recently would be included under the orange zone. Only restricted activities such as limited public transport and farm product harvesting are expected to be allowed in the coronavirus orange zone.
Green Zone for Covid 19: All the districts that have no coronavirus positive cases will fall under the green zone. Some exemptions will be given in these sectors as per the government's plan. Limited movement of people linked to essential services and businesses will be given exemptions. Opening of liquor shops and other essential items that play a major role in generating state revenue might get an extension in this zone.
List of Coronavirus Hotspots in India.
Total hotspots Red Zone Districts: 123 (Large Outbreak)
Andhra Pradesh (11 Districts): Kurnool, Guntur, Nellore, Prakasam, Krishna, YSR, West Godavari, Chittoor, Vishakhapatnam, East Godavari, and Anantapur.
Bihar (1 District): Siwan
Chandigarh UT (1 District): Chandigarh
Chhatisgarh (1 District): Korba
Delhi: (9 Districts): South Delhi, Shahdara, South East, West Delhi, North Delhi, Central Delhi, East Delhi, New Delhi, and South West Delhi
Gujarat (5 Districts): Ahmedabad, Vadodara, Surat, Bhavnagar, Rajkot
Haryana (4 Districts): Nuh, Gurgaon, Faridabad, Palwal
Jammu and Kashmir (6 Districts): Srinagar, Bandipora, Baramulla, Jammu, Udhampur, Kupwara
Karnataka (3 Districts): Bengaluru Urban, Mysuru, Belagavi
Kerala (6 Districts): Kasargod, Kannur, Ernakulam, Malappuram, Thiruvananthapuram, Pathanamthitta
Madhya Pradesh (5 Districts): Indore, Bhopal, Khargone, Ujjain, Hosangabad
Maharashtra (11 Districts): Mumbai, Pune, Thane, Nagpur, Sangli, Ahmednagar, Yawatmal, Aurangabad, Buldhana, Mumbai suburban and Nasik
Odisha (1 District): Khurda
Punjab (4 Districts): Sasnagar, SBS Nagar, Jalandhar, Pathankot
Rajasthan (11 Districts): Jaipur, Tonk, Jodhpur, Banswara, Kota, Jhunjhnu, Bhilwara, Jaisalmer, Bikaner, Jhalawar and Bharatpur
Tamil Nadu (22 Districts): Chennai, Tiruchirapalli, Coimbatore, Erode, Tirunelveli, Dindigul, Villupuram, Namakkal, Theni, Chengalpattu, Tiruppur, Vellore, Madurai, Tuticorin, Karur, Virudhnagar, Kanniyakumari, Cuddalore, Thiruvallur, Thiruvarur, Salem, and Nagapattinam.
Telangana (8 Districts): Hyderabad, Nizamabad, Warangal Urban, Ranga Reddy, Jogulambagadwal, Medchal Malkajgiri,Karimnagar, and Nirmal.
Uttar Pradesh (9 Districts): Agra, Gautam Budh Nagar, Meerut, Lucknow, Ghaziabad, Saharanpur, Shamli, Firozabad, and Moradabad
Uttarkhand (1 District): Dehradun
West Bengal (4 Districts): Kolkata, Howrah, Purba Medinipur, 24 Paragana North
Hotspot Districts with Cluster
Andaman and Nicobar (1 District ): South Andaman
Assam (5 Districts): Golaghat, Marigaon, Nalbari, Goalpara, Dhubri
Bihar (3 Districts ): Munger, Begusarai, Gaya
Chhatisgarh (1 District): Raipur
Delhi (1 District): North West
Gujarat (1 District ): Patan
Haryana (2 Districts): Ambala, Karnal
Himachal Pradesh (5 Districts): Solan, Una, Sirmaur, Chamba, Kangra
Jammu and Kashmir (2 Districts): Shopian, Rajouri
Jharkhand (2 Districts): Ranchi, Bokaro
Karnataka (5 Districts): Dakshin Kannada, Bidar, Kalburgi, Bagalkote, Dharwad
Kerala (1 District): Wayanad
Ladakh (1 District): Kargil
Madhya Pradesh (1 District): Morena
Maharashtra (3 Districts): Kolapur, Amaravati, Palghar
Odisha (1 District): Bhadrak
Punjab (4 Districts): Amritsar, Mansa, Ludhiyana, Moga
Rajasthan (1 District): Udaipur
Telangana (1 District): Nalgonda
UP (4 Districts): Bulandshahar, Sitapur, Basti, Baghpat
Uttarakhand (2 Districts): Nainital, Udhamsingh Nagar
---
You May Also Check:
You May Also Like Some of Our Best E-Books & Practice Sets
Join Our Social Media
To Join us Instagram

Account

Click Here
To Join us Facebook Page
Click Here
To Join us Telegram Channel
Click Here
India's Most Affordable Premium Practice Set